I wanted this to be a lighthearted post about how much my kids adore this brand-new American Girl doll kitchen that was sent to us this month. And, if you talked to my kiddos or simply scrolled through this post with picture overload, it would be.
If you asked my kids about the kitchen, they would excitedly tell you about all the features. They would go on and on about how it's all AMAZING, and you would find yourself smiling over their obvious excitement that they can't contain.
The stages of American Girl
American Girl has been a constant for us since my oldest could barely walk, when we surprised her with an American Girl Bitty Baby during our visit to the Chicago store on a press trip. That's nearly 12 years of love, and this summer I was able to re-kindle that love of American Girl with my oldest again. It's not that she's outgrown American Girl – in fact, quite the opposite. It's just that she was moving into a whole new level of play – the "create" stage – and this kitchen changed everything.
My daughter started like most young kids do in the "cuddle" stage. This is when her dolls were best friends that she took everywhere with her so she could snuggle them. After that, she moved to the "play" stage where she would make her dolls into characters and they would interact and she'd play for hours.
But, in the last year or so she moved into the "create" stage where she would do their hair, set up scenes to photograph, and make crafts for her dolls. But, even though this is technically "playing", she didn't really play with the dolls like she used to. It happened slowly and I hardly noticed at first because I was so excited for this stage myself. I love setting up scenes and mini crafts, so having a buddy that is capable of doing these crafts with me is a dream come true.
But, the more she moved from the "play" stage into creating only, the more I found myself mourning the end. Even though I still have two kids firmly in that stage, I couldn't believe that stage had passed so quickly with her and it made me worry that the "create" stage would also come and go in a blink.
And, then the new American Girl kitchen arrived.
My girl has always loved kitchens, and until now we had a hodge-podge of items filling the kitchen room in their American Girl house. Stove from a knock-off brand, cheap-o plastic fridge from Goodwill that was missing lots of accessories and functionality, and a shelf made out of a wooden organizer I found at Michaels. It wasn't a terrible attempt at filling the room, but it left a lot to be desired.
This new kitchen from American Girl is literally just what I would have designed if someone had given me a team of people and all the resources to make mini things happen. Every. Single. Detail.
As it turns out, it's also the kitchen of my daughter's dreams, and I've found her actually playing with it more times than I can count. Not just setting it up and then taking some pictures – actual, real-deal playing with it. There was one day while she was reading, and I was stopping in her room to put in a stray AG accessory I had found. My girl saw me over by the stove and she put down her book and offered to cook me a mini meal.
I had a million things to do and had been on my way to do a few dozen of them, but how could I possibly say no? So, I sat there with a to-do list longer than my arm and I played American Girl with my oldest. My first baby, the one that initiated me into motherhood, the one teetering on the teen years. She wanted to play with me, and there was no way I would refuse.
I know I won't remember every moment during these years, but I will never forget that moment. I won't forget how it felt having a rare alone moment with my tween, playing in her American Girl doll kitchen. Her siblings were both off napping and reading and instead of talking hair or makeup, or the newest book she was reading, she wanted to play dolls with her mama, just like we used to do.
That's the magic of this kitchen.
Thinking and talking about feelings with American Girl
It's not just my tween that's been connecting with dolls more during this time. Playing with dolls has been the easiest way to connect with my kiddos and really get them talking and thinking about their feelings during this incredibly confusing, and sometimes scary, time.
When those feelings get big, we pull out the dolls and play together. Talking about feelings by way of dolls ends up not only bringing out the feelings they feel too scared or overwhelmed to mention outside of play, but it also makes it fun. And, with this new kitchen, it makes doll play really, really fun.
If you ask just about anyone, they will tell you the kitchen is the heart of their home. That's where so much bonding happens, where we talk about each other's day, and where we plan our next adventure. And, now the heart of our American Girl house is complete.
It's only been here a week and a half since it arrived and made its home in our doll house, and already the American Girl kitchen is the heart of our doll-playing. It's been where we pretend to cook and eat, but it's also where were ask each doll about their day, where we talk about their feelings, and where we make big plans for play.
We talk a lot about extended play value, but this American Girl kitchen has also made us think more about extended bonding value. As a parent, I would pay some pretty hefty prices for the kind of bonding we do with dolls and their accessories, and that for me makes them worth every single penny.
About the American Girl doll kitchen
As we glossed over in the beginning, this kitchen is utterly amazing. Not only is it beautiful, it's also incredibly well made. We're not talking cheap plastic doll furniture like our American Girl kitchen used to be, this new kitchen feels like *furniture*.
The two pieces can be set up in so many configurations since they both have three sides of play area. Set it up however you want, and change it up however often you want. Although they are heavy pieces to lift since they are made with such high-quality materials, it's easy enough for little kids to position while playing. Being able to move them and use all the sides of each piece makes it so fun to set up, redesign the space, and play in so many different ways.
And, play you will. Every single piece of the American Girl kitchen is made for play, and has so much play value. From the working stand mixer to the lights that turn on and off in the fridge and working ice maker, it's just like a real kitchen. And, I haven't even gotten to the stove.
The stove has 4 burners that all make different cooking sounds when you set down pots, pans, and kettles, and it has really cool "baking technology". It has an integrated UV light that magically "cooks" the pizza and pie that come with the set. Press the UV light button on the stove and your item will "cook" and then ding when the light turns off. Above the stove is a little shelf to hold spices, salt and pepper, and oils.
I personally love the storage in the set and the fact that every piece has built-in cupboards or drawers for holding all the little accessories. The main kitchen piece has a fridge for storing all those keep-cool items, as well as a freezer drawer, and even a deep pantry cupboard for holding all sorts of stuff. The kitchen island has storage on the front decorative side, as well as two drawers and cupboards on the sink side for storing all the kitchen gadgets and accessories.
American Girl doll kitchen includes:
Refrigerator with an icemaker that dispenses two ice cubes and makes two sounds—pouring water and ice cubes falling into a glass. Plus, the light turns on when the door is opened.
Stove with four burners that each make a different sound and an oven with color-change technology that "bakes" the pizza and pie, plus a timer that "dings" when it's done.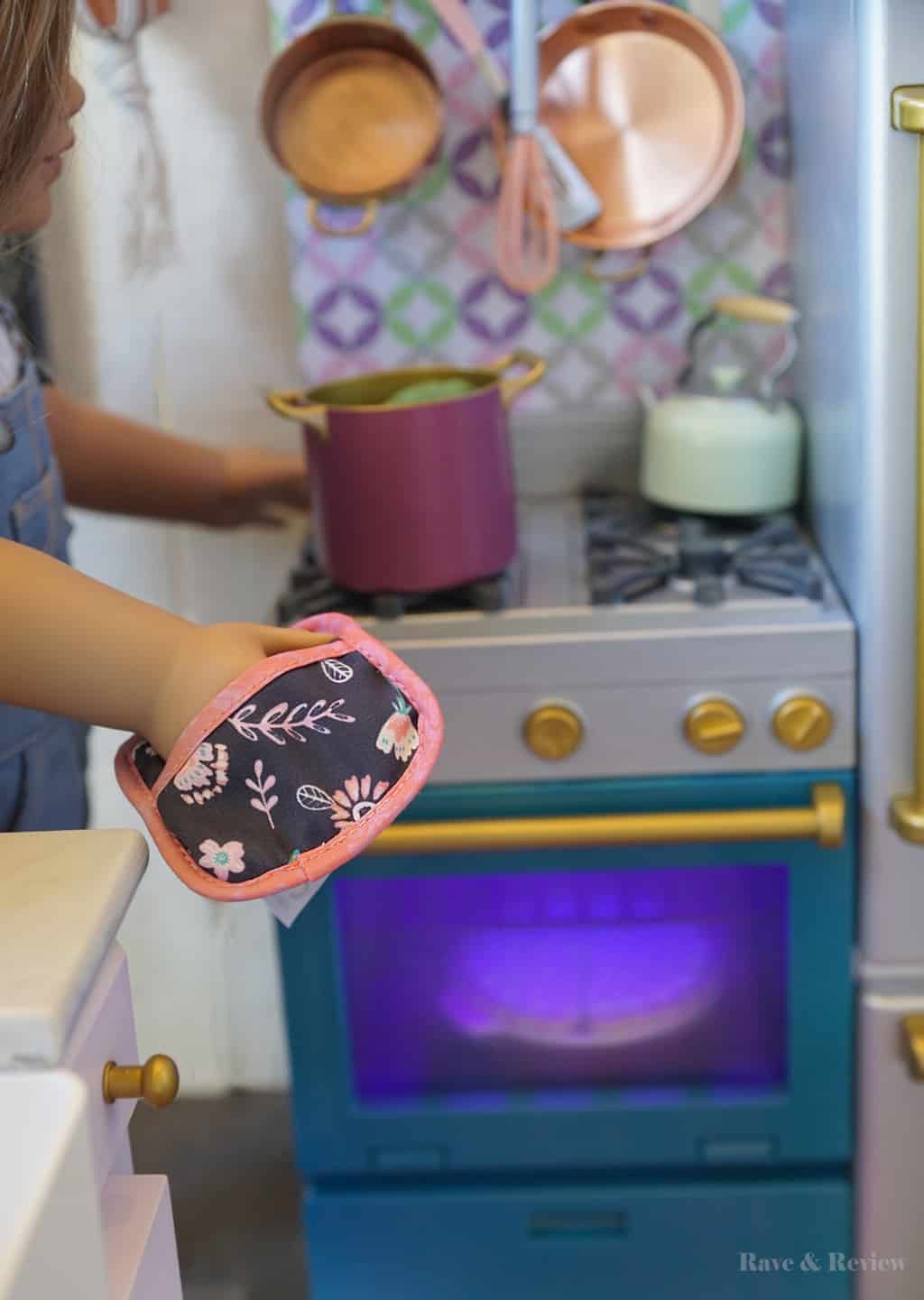 Kitchen island with a counter work area, sink, and shelves for storage underneath.
Stand mixer that really spins. It comes with an extra paddle accessory for even more play value.
Foods include a color-change pie and pizza that's activated in the oven with the UV light, a bag of salad and dressing, lemons, spice jars, salt and pepper, syrup bottle, butter in dish, four ice pops in a popsicle mold tray, flour and sugar canisters, cheese, a stack of pancakes, eggs in a carton, and cooking bacon and eggs.
Drinks include lemonade pitcher and jug of milk.
Accessories include a kettle, place setting for 2, pizza cutter and box for the frozen pizza, box for the bacon, rug, pad of paper, calendar, cheese grater, box of pancake mix, apron and hot pad, frying pan and stock pot, towel, mixing bowl, set of measuring cups and spoons, spatula, whisk, mixing spoon, and ice for the fridge's ice maker.
Want to know more about this amazing kitchen? You can watch a video that shows all the inner workings of the set and buy it at AmericanGirl.com. Check it out and see why we're in love.