A big thank you to PLAYMOBIL for sending their new Dino Rise playsets to be adored. They are going to get a whole lot of action here.
My little PLAYMOBIL super fans were so excited to get a huge box of goodies addressed to them this week as part of our Sweet Suite coverage. They were on Zoom with me when I met with PLAYMOBIL at the event, and it was the first time they had seen the new Dino Rise sets other than the catalog. The rep showing the line showed all the detail you can possibly convey over Zoom, but nothing beats seeing these awesome toys in person.
To say that they were excited to open them up and start building is an understatement. Our meeting had barely ended when the package arrived, and these two graciously offered to open the box up for me to check it out. Thanks, kiddo.
So excited to open up the big box with a big blue bow from their favorite brand. I *might* have even gotten them to clean their rooms to make this whole thing happen.
Ready, set, PLAYMOBIL Dino Rise
Have you heard of PLAYMOBIL Dino Rise yet? It's the battle of technology vs. dinosaurs, mech suit vs. T-Rex. Suit up your dino for the fight, add armor and weapons, and then have your character hop onboard for an exciting fight of the giants. Find out who is behind the technology takeover and whether they are using it for good or evil, and help your dinos to maintain control.
The Dino Rise sets have all the details you expect from PLAYMOBIL. We love the weapons that really fire, interchangeable pieces, characters and details you can modify, and tons of moving parts that make for a fun and exciting battle once you're all suited up.
With PLAYMOBIL, you build the fun
As with all PLAYMOBIL sets, building it is part of the fun. I will admit we were a little scared at first when we opened the first box and it had a completed character displayed and the dino in protective cardboard, thinking the whole set was already pre-built. But, lifting up the box revealed the same old build bags we adore. Per our usual, we divvied up bags and each went to town building our sets.
The building process is always my favorite part, figuring out what clever ways the PLAYMOBIL engineers designed the sets and ooohing and ahhhing over all the tiny pieces that make the fun really come alive. And, these sets definitely did not disappoint. Full of fun techy pieces like mech suits, drones, robots, and more, this made my little scientist swoon with all the many ways he can use these pieces in all his PLAYMOBIL adventures.
And, when we were done assembling, swapping and sticker-ing, it was time for play. My kids adored that the pieces have so much movement in them, from working drone propellers and nets that drop cargo to firing nets and flaming torches at enemies, there's a whole lot of ways to battle.
PLAYMOBIL Dino Rise, our take
Overall, I thought it was fun to take a break from the PLAYMOBIL licensed sets we've been posting about over the past few years and focus on a whole new line that's like nothing I've ever seen before. I mean, sure, we've seen dinos and we've seen technology from PLAYMOBIL, but not in this way. My son has always been drawn to the PLAYMOBIL dinos, and robots are basically his favorite, so he was all about playing with these for hours.
I also love that these new sets have revived their love of the PLAYMOBIL dinos we've owned for years. The kids dug out their PLAYMOBIL Explorer sets and added them to the Dino Rise play and were happy as could be until I drug them away to eat.
PLAYMOBIL always does a great job of recycling themes from earlier lines that somehow makes them nostalgic while also feeling completely new. Dino Rise is like that, because it's definitely reminiscent of our Explorer sets, but also a whole new take at the same exact time. It's the perfect mix of old vs new that keeps the kid in me coming back for more.
PLAYMOBIL Dino Rise sets shown
Attention a hypermodern fighting robot is up to no good! Ian must find and stop whoever is controlling it, but he can't do it alone. The robot fighting machine is on destruction course and he needs a giant of his own. Who can he turn to but a real T-Rex with titanium strong protective armour, equipped with cannons and a catapult. Together with some super advanced combat equipment and a mini dinosaur, the team bravely face the machine. A battle of the giants begins! Get ready for an action-packed dino adventure to save the world.
Equipped with functioning cannons, barrel catapult, and removable armor. Figure can ride the T-Rex.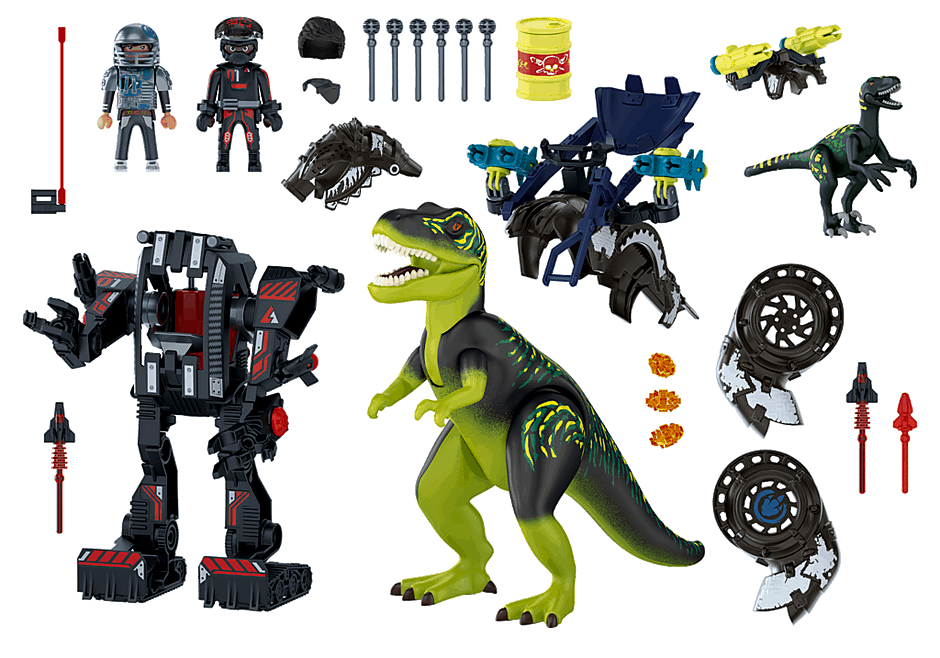 Sometimes the enemy is much smaller than expected, for example mini robots. These nasty little machines try to scout out the plans of the Dino Team unnoticed, but the Dino Team isn't going down that easily. The armoured Triceratops not only has a normal cannon, but also a trap net cannon. If his partner Jaden hurls out the catch net at the right moment, the mini-robots are pinned down and thus immobilized. Strong dino-human power for tricky special missions.
Equipped with a working safety-net cannon, and removable armor. Figure can ride on Triceratops.
Even at lofty heights, war against the robots is waging. A drone makes the airspace unsafe, but that's no problem for Kaidan and his agile Pteranodon. With its projectile net, it can knock out approaching enemies in a flash with Kaidan on his back. There's no stopping this clever human-flying dinosaur duo. Attack from the air – repelled!
Equipped with projectile net and debris to drop from the sky to take down the drone. Figure can ride the Pteranodon.
Want more PLAYMOBIL Dino Rise?
Check out the YouTube series The Legend of Dino Rock and see the characters come alive. My kids have only watched a small portion of the videos, but they are very much looking forward to watching the whole series this summer as they play with their new Dino Rise toys.
You can see the full PLAYMOBIL Dino Rise set at playmobil.com