This shop has been compensated by Collective Bias, Inc. and its advertiser. All opinions are mine alone. #UltimatePitStop #CollectiveBias
Around here it's been a mini construction zone for days. The kiddos have been busy repurposing toys, household items, and art supplies to create a little world for them to play in. This may look like any old kids' project, but for them, and for our family, this isn't just child's play or a random assortment of things – this is how the siblings bond using Disney•Pixar's Cars 3.
Interested in finding out what their newest Disney•Pixar's Cars 3 love is? Hover over the photo to click through to Amazon.com to buy!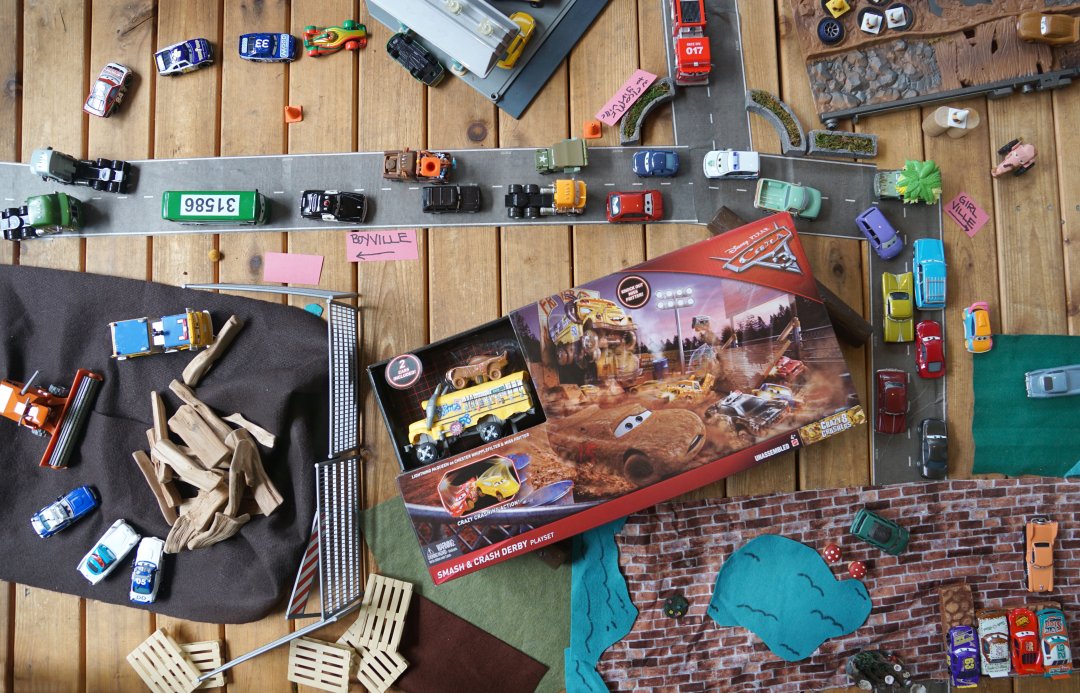 If you know my older kids, you know they are exceptionally close, despite being different genders and over two years apart in age. They play together happily for hours and hours each day and for the most part agree on toys, activities, and things they enjoy. But, there has been one activity they have disagreed on since my son was old enough to communicate.

My son has been drawn to anything with wheels since he was a baby, and my daughter would basically rather do anything else but play cars, trucks, airplanes, tanks and trains. She prefers toys with a human-like component, like dolls, animals that talk, or miniatures, and although my son likes all of those things as well, he still adores vehicles with a passion and defaults to playing cars and trucks whenever he is playing alone.
Not that my daughter hasn't tried to play with him, she has actually tried her hardest to appreciate his love for things that go. But, like me, she has zero interest in it and even he can tell her heart isn't in it. She came to me at age 4 or 5 and told me that she had been wishing on stars hoping that she would someday like vehicles like her brother so she would know how to play them with him. As happy as that made me that she cared so much for her brother that she would wish her likes would change as opposed to wishing her brother would stop liking toys she did not, it also made me sad.
So, I found a middle ground. Disney•Pixar's Cars diecast cars are perfect to bridge that gap because they have that human component my daughter prefers while still being the cars that my son adores. Disney•Pixar's Cars allows them to agree on playtime toys and has led to some really awesome sibling bonding. My daughter now happily plays alongside him while making up stories, setting up scenes, and creating little Disney•Pixar's Cars worlds right next to him using our massive collection of over 500 diecast cars and counting, all cataloged on a spreadsheet and lovingly cared for.
It's not just the sibling bonding that makes me love Disney•Pixar's Cars. I personally love the overall theme of the franchise that shows how helping others makes you feel good and how friendship can beat the odds. My kiddos are proving to me year after year that their friendship is something truly special as it continues to beat the odds and grow instead of them growing apart as their interests expand.
It's this reason that I'm super excited for the Disney•Pixar's Cars 3 release to reignite this love. With Disney•Pixar's Cars 3 on the mind, we have been having a blast playing with the new toys and imagining what the new characters will bring to the story. Since our local stores are rather picked through, we have turned to Amazon.com to utilize our Amazon Prime membership while stocking up on not just diecasts, but also Disney•Pixar's Cars 3 playsets, bedding, clothing and accessories. Amazon really is the Ultimate Pit Stop for all things Disney•Pixar's Cars 3.
When this newest Disney•Pixar Cars 3 Crazy 8 Crashers Smash & Crash Derby Playset arrived a few days ago, the kids immediately got to work creating a massive Disney•Pixar Cars world with it. I supplied the felt, construction paper, tape, and glue, and they collected some random accessories, wood pieces, and anything else they could find in our junk drawer or toy box.
The result was a large collaborative project that included the neighbors, the little sister, and even hubby and I a bit. Although we gave them absolutely zero guidelines or restrictions, I wasn't surprised to see what the final outcome was after hours of creating.
Per the usual, my son created a "construction zone" in Boyville with buildings in progress, realistic roads and job site debris. Of course, it was surrounded by Disney•Pixar Cars security vehicles and included the new Disney•Pixar Cars 3 Crazy 8 Crashers Smash & Crash Derby Playset as the center of the action. My son is especially fond of the Miss Fritter character based on the toys alone, and he is very much looking forward to finding out what "Fritter Time" really means.
My daughter, on the other hand, created a world in which she would love to live. Majestic ponds, cobblestone pathways, and a sweet little campground were largely her focus for her Girlville. My favorite was her Disney•Pixar's Cars photo shoot setup which couldn't be more her.
Do you love Disney•Pixar's Cars as much as the kid and I do? Be sure to catch Disney•Pixar's Cars 3 racing into theaters everywhere June 16th.
Want to have a little piece of the movie to bond over, too? Not only can you find diecast vehicles, you can also find a whole world of Disney•Pixar's Cars 3 merchandise, including LEGO Juniors Thunder Hollow Crazy 8 Race Building Kit, the Just Play Cars 3 Mack Mobile Tool, and Disney•Pixar's Cars 3 Apparel and Disney•Pixar's Cars 3 Bedding on Amazon.com. Shop today and have your favorite items delivered in just days – or hours in some cases, all without any hunting around and hoping the stores near you have them in stock.

How do your kids bond over Disney•Pixar's Cars?
© 2017 Disney/Pixar