Like most kids, my kids would eat pizza every day if I let them. Since the term "pizza" is so incredibly ambiguous, I typically make them a "pizza" variation of sorts every few weeks. Sometimes we make our own dough for crust, sometimes we use wheat pitas, English muffins, or pre-made crusts, and occasionally we get a frozen pizza as a treat. And, as varied as the crusts are, the toppings are even more so and they can change depending on our moods or what we have to get rid of in the fridge. Basically, as long as you call it pizza, it will get eaten.
For us, a pizza oven actually makes a lot of sense because it allows us to take pizza to a whole new level. As soon as I saw the Black+Decker 5 Minute Pizza Oven & Snack Maker, I was already sold. I could take something that was already easy to make and make it even easier. 5 minutes to bake a fresh or frozen 12" pizza easy. That's about the length of time I typically spend looking for matching shoes each morning. So, to make dinner in 5 minutes? Amazing, I tell you.
Having worked in a pizza parlor before, I know the secret to good pizza: intense heat and rapid cooking. Now, Black+Decker gives you both at home with the new 5-Minute Pizza Oven and Snack Maker that has dual heating elements that reach over 625 degrees for fast results. The custom engineered heating elements in the Pizza Oven create a high, even heat that gives you the perfect golden-brown crust and bubbly cheese every time, in only 5 minutes.
That's right—just 5 minutes to bake a fresh or frozen 12" pizza!*
But, what if you don't make pizza at home that often? Then the second part of the oven name is going to come in handy. You know, the "snack" part. That's right, the pizza oven isn't just for pizza, it's a pizza oven AND snack maker.
Do your kids love chicken nuggets? Then, you will love this oven. Baked goods? Check. Poppers, potato skins, French fries, and JoJos? Yep, yep, yep and yep. And some other baked snack I haven't mentioned? Yeah, it does that, too.
With 5 individual settings for thin, deep, and rising crusts as well as for frozen snacks and baked goods, you can make all sorts of things in your 5-Minute Oven. Simply place them on the ceramic coated tray or place them on a separate oven-safe baking tray and set the temperature and you are minutes away from delicious foods.
How easy is that?
We've made all sorts of things in the Black+Decker 5-Minute Oven, including frozen pizza, homemade individual pizzas, flat breads, chicken nuggets, reheating foods, garlic bread, tater tots, nachos, broccoli and even cooking some frozen Jenny Craig pizzas so we could see how the fresh from the oven taste compared to the microwave cooking method. If you're wondering, it was no contest. The pizza oven wins, every time. I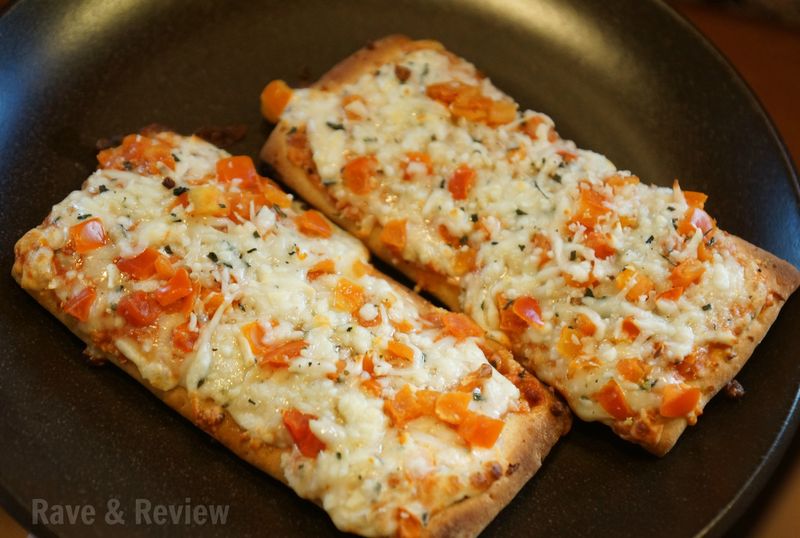 bet you want to try this awesome little oven yourself. What would you make in the Black+Decker 5-Minute Pizza Oven and Snack Maker?
Follow Black+Decker on Facebook to hear about all their newest products first.

A big thank you to Black+Decker for sending the pizza oven for review. *5 minute time was tested with a 12" cheese classic crust pizza and a 12" fresh thin crust pizza cooked at 120V