This Shop Redbubble post is sponsored by Sivan Social. All comments and opinions about are my own.
Handmade and homemade is the way to my heart. I don't really do mass-produced or straight off the rack as I'd rather not be one of a half dozen moms at the playground in the same t-shirt or skirt. So, I do most of my shopping in thrift stores, at garage sales, handmade craft fairs or at farmer's or flea markets.
While in theory this sounds awesome, let me assure you, it has its downfalls. These include, but are not limited to: stock issues since items are made one at a time, wandering aimlessly looking for gifts for those that are hard to buy for, or not having a fair or market when you need one. This past year really highlighted those downfalls when all of my favorite local things closed and items were sold out everywhere. But, there was one thing that didn't close or have stock issues: Redbubble.com
What is Redbubble
Redbubble began in 2006 in Melbourne, Australia with a dream to give independent artists a new and easier way to sell their creations. Instead of having to wait for the 2-3 times a year when a craft fair came to town, Redbubble allowed people like me to connect with artists and designers online on our schedule.
So, what makes Redbubble different than an online craft fair or some other handmade website? Well, instead of it being just a forum for artists to sell their wares, Redbubble does all the work in printing and shipping the products, freeing the artist up to focus on the art portion of selling.
Basically, the artist just supplies the image and then Redbubble handles the rest, including arranging printing, shipping, tracking, and then paying the artist. This means that Redbubble can print and ship fast, guarantee quality, and save artists from having to learn all the ins and outs of printing, selling, and shipping. And, then you, as a customer, get to shop Redbubble and see their uncommon designs and get awesome stuff. Win-win-win.
Who is Redbubble for?
It's for people like me who crave the new and unique, it's for people who are super-fans and want to show it off, and it's for people who want to support artists in their artistic endeavors. Oh, and it's also for gift-givers who are shopping for all those impossible-to-buy-for recipients. Redbubble is for those who don't know exactly what they need, but they will definitely know it when they see it.
Basically, everyone should shop Redbubble.
Oh, teens. Impossible to figure out, a little bit moody, and they pride themselves on the fact that they have already seen everything and heard everything. Sigh.
I've got several teen birthdays coming up in the next few months, which usually stress me out to no end. So, this year I decided to shop Redbubble to help me find the perfect gifts for all the teens on my list. The best part about shopping for teens on Redbubble is that you only need to know one thing they like to find a huge selection of gifts.
That t-shirt above? It's a game referenced in New Girl that only true fans would get it. What teen wouldn't love a subtle reference to a favorite show? This is now my new Fourth of July shirt that I'm sure will get worn year-round.
Is your teen addicted to Animal Crossing or superheroes? There are literally thousands of items to choose from that you could order to rock their world. Maybe they have a favorite band or song? No problem, there's probably pages of results for both. A favorite type of pet or animal? Again, pages and pages of results to choose from.
I am buying for a Taylor Swift super fan, and since she really likes the 2020 album Folklore, I decided to focus on products specifically from that album. So. Many. Results. I knew I wanted a few stickers, so I filtered my results and chose a few. I couldn't resist this one that is not only a lyric, but also fittingly sweet. I love you to the moon and to Saturn, indeed.
Then, I chose a Taylor Swift Folklore hoodie that I knew she was going to flip for. What teen doesn't want a comfy black hoodie that goes with everything and just-so-happens to have their favorite artist, album, and songs on it? Score!
Next present was a quick search for axolotls since my almost-teen daughter adores her two pet axolotls. I was blown away by the results, especially since it's been so hard to find axolotl products both in retail stores as well as online on other sites. But, Redbubble had so many options that I ended up getting more than I had planned on for her.
While I got her quite a few axolotl products, I am so incredibly excited about this amazingly snuggly and adorable axolotl blanket from Redbubble. I mean, it's cute, it's cozy and warm, and it shows off her amazing amount of axolotl love. I love that it's irresistibly soft and just the right weight for a spring, summer, and fall blanket. It's basically going to become her most prized possession in just a matter of minutes.
Want to sell on Redbubble?
You can literally open a shop in minutes. For free. It's so easy that I actually did it on accident while researching for this post. But, then I got really excited about selling on Redbubble and now I've got big plans to eventually upload my first design. It's just the right amount of selling for me these days, and it means I get to focus on creating art, which I love.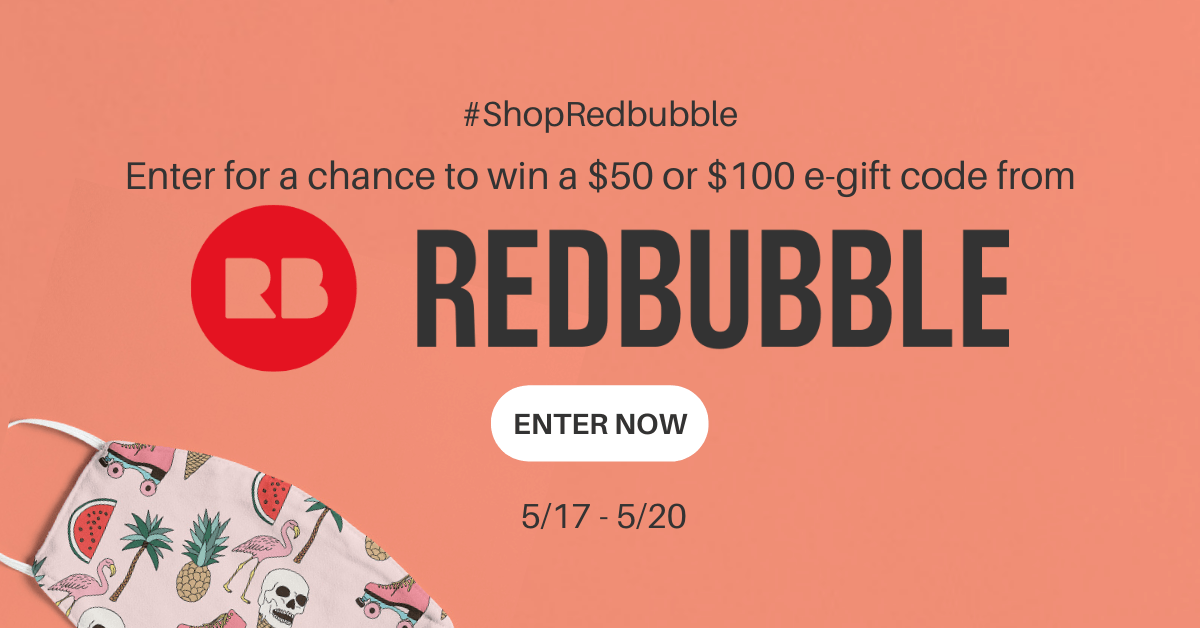 Want to win some Redbubble stuff for free?
Enter the #ShopRedbubble giveaway and you could win one of 7 awesome prizes, courtesy of Savings.com.
Savings.com is giving six (6) winners a $50 e-gift code & one (1) winner a whopping $100 e-gift code to spend at Redbubble.com
Giveaway ends on May 20th at 11:50 PM ET.
Users enter the giveaway by heading to the Redbubble merchant page on Savings.com and submitting their email address on the form on the page.
The winners will be chosen through a lottery drawing and notified on Friday, May 21st via the email address they used to enter.
See complete Shop Redbubble Official Rules for entry instructions, full prize descriptions, restrictions and other important details.