The myCharge units featured in this post were received for review. All opinions are 100% ours and no form of monetary compensation was received in exchange for this Rave Review.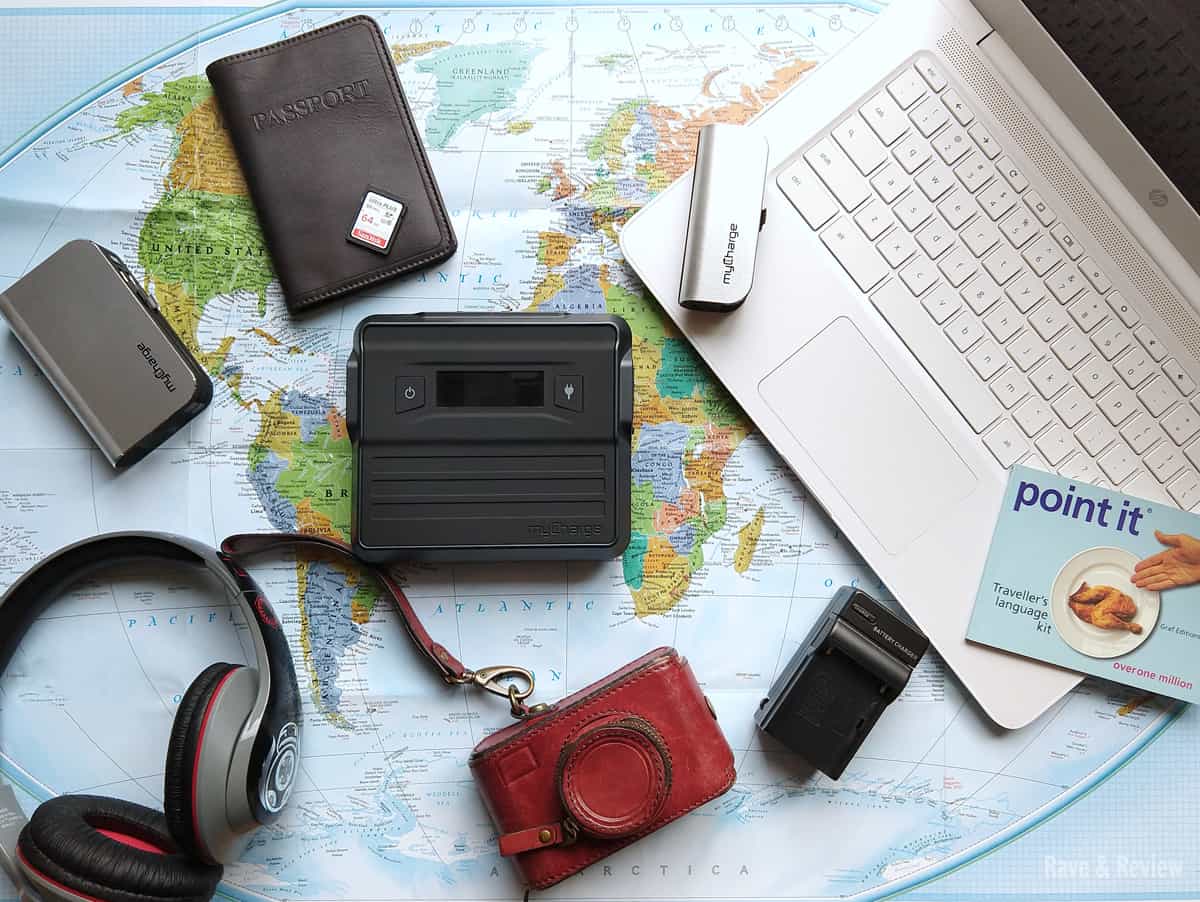 You never realize how dependent you are on electricity until the power flickers and you experience that moment of sheer panic. Your list of electronic devices flashes through your head and you mentally log each power level. With spring storms on the horizon as well as numerous camping trips, concerts, vacations, and more, I had been eyeing a heavy-duty portable charger that could keep up with our family and all of our devices.
I met with myCharge at CES and was so excited about what I saw – they literally have a portable and convenient way to charge anything with a cord. Lipstick sized, cell phone sized, or book sized, they have it all and it can keep just about any electronic charged and ready to go.
Portable Power Outlet – take the wall outlet with you
Most people worry about their smartphones first and then maybe a tablet or USB charged accessory, but for me, just about everything I need requires an actual wall charger. My laptop, my camera for photo shoots, my strobe, and most of my accessories that plug in have a traditional plug with the exception of my phone. That means the power goes out, we're camping, or we're on a long road trip and all of a sudden all of my devices are dead. As someone who makes their living with these electronics, I can't just shrug and take the day off.
The myCharge Portable Power Outlet is made for people like me. This 20,000 mAh charging hub and inverter can handle almost anything that plugs into the wall, with a maximum power output of 65 watts. Not only does it have a traditional three-prong AC outlet, it also has 2 USB-A and 1 USB-C capability that make this an all-in-one charger for all of your many gadgets.
Designed to replace bulky generators used when tailgating or camping, the Portable Power Outlet is a streamlined power source that can run a 34-inch LED television for up to four hours, run small medical units, and charge most laptops 1.5 times, tablets 2 times, or small accessories and phones up to 10.5 times. It's roughly the size of a hardback novel and comes already charged and ready to go. We have already used it numerous times and know it's going to be worth its weight in gold if the power ever goes out suddenly or I need to work on a road trip or vacation.
It truly is a smart device, with many different smart features built in to make the most of your battery life. The lit display of the Portable Power Outlet helps you keep track of the battery level of the unit, and the multiple outlets allow you to charge different tech gadgets at the same time. It charges quickly and once the device hits full power, the Portable Power Outlet automatically cuts power to the device so you don't waste your battery life needlessly. It has attached rubber covers that protect the sockets when not in use, and covers to protect all inputs and outputs, which I love. The only thing I would potentially change about it would be a cover for the power buttons so I wouldn't be worried of the unit turning on in my bag or pack. 
The HUB Plus is purse-ready power
If you don't quite need the bulk and capability of the Portable Power Outlet, don't worry, myCharge has plenty of devices just for you. I fell in love with the HUB Plus-C portable charger at CES and was so excited when they sent me one for all of our spring and summer adventures. With built-in wall prongs and built-in USB-C cable and micro-USB cables, you never have to carry a purse or backpack full of wires again. Everything you need is built right in and ready to go in this little 6700mAh device.
At just a little bit bigger than a deck of cards, the HUB Plus is easy to cart with you just in case, and it's aluminum body makes it rugged enough for even the most daring adventurer. You can charge two gadgets at once with the built-in cables, and it provides enough power to charge your small accessories and phones 3.5 times before you will need to juice it back up by plugging it into a standard wall outlet.
Since we love our adventures, this little HUB Plus is going to see a ton of action over the next few weeks. For our family hikes, our many Scout campouts, and our long weekend road trips, this is the perfect size. I'd barely notice it stashed in my purse or backpack, and it would take up no room at all in the glove box, but when we needed it, it would be amazing to have.
Not quite sure what charger you need? Check out myCharge and see their wide array of chargers for any need or any adventure.